DaVinci Resolve 15 Studio
Includes everything found in the free version plus multi user collaboration features that let editors, colorists, effects artists and sound engineers all work together on the same project at the same time, plus 3D tools, dozens of Resolve FX and more.
New Editing Featuresin DaVinci Resolve 15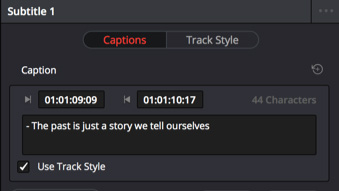 Subtitles and Closed Captioning
Import SRT files or manually create subtitles and closed captioning.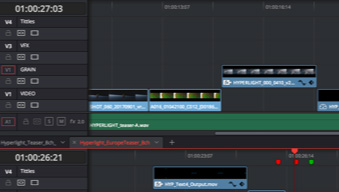 Stacked Timelines
Open multiple timelines to quickly copy, paste and edit between them.
On-Screen Annotations
Draw directly on top of video using new annotation tools.
2D and 3D Title Templates
Quickly add professionally designed Fusion 2D and 3D titles.
Resolve FX Keyframes
Add keyframes to animate Resolve FX and Open FX plugins.
Improved Optical Flow
New algorithms provide superior results for slow motion and Smooth Cut.
Incredibly Responsive
High performanceplayback engine and optimizations!
DaVinci Resolve 15 is optimized for editorial performance. You get instantaneous JKL playback and an ultra responsive interface with super smooth timeline scrubbing, dramatically faster editing, and more responsive and precise trimming than ever!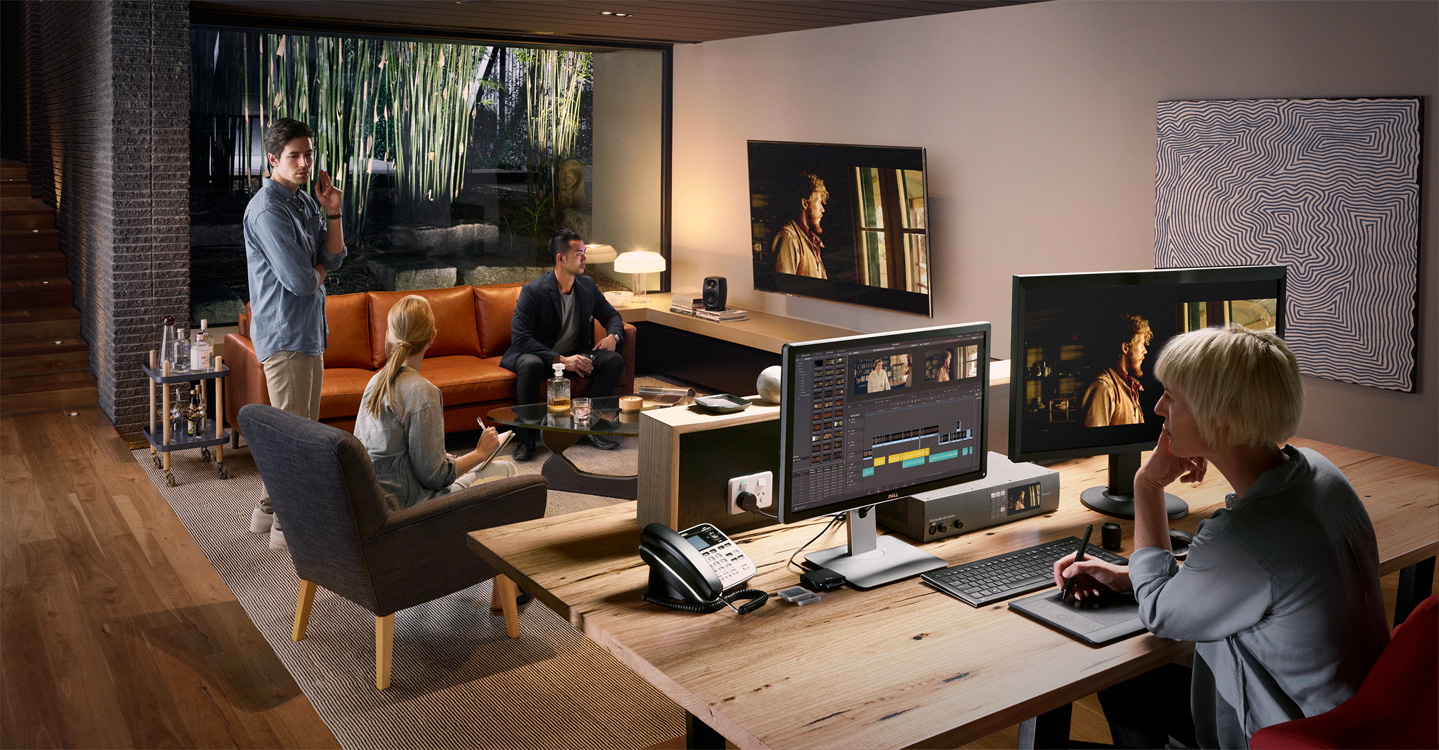 Creative Editing
Virtually every
imaginable editing tool available!

Designed to be intuitive and familiar, DaVinci Resolve lets you work the way you want. Choose from edit types such as overwrite, insert, ripple overwrite, replace, fit to fill, append at end and more. Every editing style is supported, from drag-and-drop to the timeline, to three and four point edits, preview phantom markers, markers as sub-clips and customizable keyboard shortcuts.
Advanced Trimming
Massive numberof high performanceprecision trimming tools!
DaVinci Resolve features more advanced trimming tools than any other system. You get context sensitive tools that automatically ripple, roll, slip or slide based on the position of the mouse. You can use dynamic JKL trimming, perform asymmetric trims, trim multiple clips at the same time, and even trim live during looping playback to make precise edits!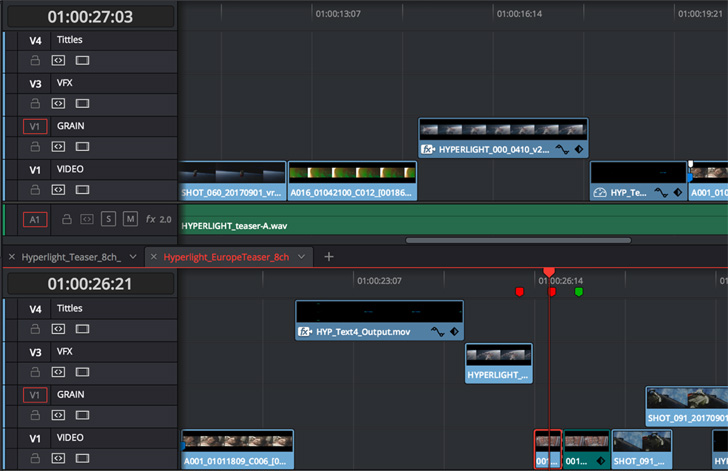 Stacked Timelines
The fastest way to edit clipsand scenes between timelines!
The new stacked timeline feature lets you simultaneously open and work with multiple timelines. Imagine being able to quickly copy and paste or edit scenes from one timeline to another. With DaVinci Resolve 15 you can have multiple timelines open at the same time which makes working in larger projects dramatically faster than ever before!
Audio Overlays
Revolutionary new way tonavigate clips based on audio waveforms!
The source viewer in DaVinci Resolve features a revolutionary audio waveform overlay that allows you to see the audio waveform and video clip at the same time. This lets you quickly navigate to different parts of a clip based on spikes, silent areas or other visual cues in the audio waveform so you can mark clips and create split edits with confidence.
Multicam Editing
Edit footage frommultiple cameras in realtime!
Cut programs while playing back multiple sources in a 2, 4, 9 or 16 up multi camera grid view. Synchronize camera angles based on timecode, in or out points, or audio. DaVinci Resolve can even recognize camera starts and stops, and uses metadata for angle and name information. You can even grade entire camera angles
 all at once!
Working with Bins
Organize footagemanually or automatically!
Create arbitrary bins to organize footage however you'd like, or use Smart Bins to automatically organize clips based on metadata. Bins can now be opened into their own windows so you can arrange them on multiple screens. New bin locking lets an assistant organize footage in one bin while the editor works on a timeline in another!
Plug-In Effects
Add generators, transitionsand filter effects to your clips!
With plug-ins, the possibilities are endless! You can add 3rd party OpenFX transition and generator plug-ins, or you can use the built in ResolveFX plug-ins found in DaVinci Resolve Studio. That means you can add filter effects such as mosaic, blurs, lens flares, film grain and more to create stunning and unique looking images!
Speed Effects
Retime clips withconstant or
variable speedchanges for incredible effects!

Quickly create constant or variable speed changes with dramatic ramping curves for truly dynamic effects. You get separate curves for both frame position and playback speed that allow any frame to be moved to any point in time. Choose optical flow, frame blending or nearest frame rendering for the highest quality results!
Timeline Curve Editor
Keyframe animation and
curve editor in the timeline!

DaVinci Resolve is the only NLE with a timeline based keyframe and curve editor. That means you can see your keyframe positions and curves directly under each clip in context with your program! Keyframes can be copied, pasted, moved in groups and edited as needed. Visual controls let you quickly select the keyframes you need
 to edit!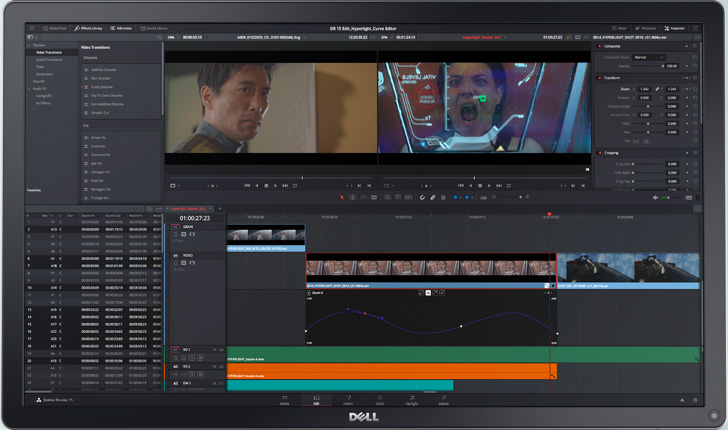 Free Delivery Area Jakarta
Gratis Biaya Kirim Khusus Area DKI tanpa Syarat Apapun !
Harga Mahal ?
Cukup Call/Chat untuk dapatkan penawaran Harga Terbaik dari kami
Views: 1613
Kode:

DV/RESSTUD

Ketersediaan:

2-6 Minggu